Chris Bor, LUTCF, CLU, ChFC, a loyal NAIFA member since 1998 and Immediate Past President of NAIFA-WA, testified at a hearing of the Washington State Senate Business, Financial Services & Trade Committee on the use of life insurance, annuities, and policy riders in long-term care planning. He gave an overview of a wide variety of LTC planning options and discussed the value of agents and advisors to consumers. Bor also serves as Vice-Chair of NAIFA's National Membership Committee.
"I help represent our members who are working with families here in Washington," Bor told the committee. "We are typically Main Street, not Wall Street, advisors. So ... the middle market is our focus with NAIFA."
"I've seen the evolution and changes in the long-term care industry, and it has changed quite a bit," he added. "Over a 15 or 20-year period of time, the insurance companies have provided a lot of good tools. There are a multitude of tools available for long-term care planning."
These tools allow advisors to customize plans to fit the specific needs of their clients, he said. Joining Bor in testifying before the committee was John Mangan, Regional Vice President with the American Council of Life Insurers (ACLI), a NAIFA advocacy partner.
Bor and Mangan's testimony is available on demand from TVW.
Additional resources on long-term care planning are available from NAIFA's Limited & Extended Care Planning Center.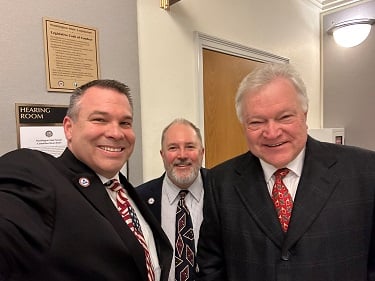 While in Olympia, Bor and NAIFA-WA President Christopher Wertenberger met with Insurance Commissioner Mike Kreidler