For Financial Professionals that are savvy enough to have a discussion about the impact of a long-term care event one of the most important topics is whether a client should consider long-term care insurance or should instead "self-insure".
Recently, I had a conversation with Noel Evans of AHT. Noel is a LTC planning specialist and often this question comes up with his clients. Our fifteen minute conversation is below and worth watching.
Here are some of mistakes we think people make when "defaulting" to self-insurance:
Looking at simple averages instead of "tail" risks.
A 2017 Price Waterhouse Coopers did an extensive study of LTC Insurance claims using data from over 200K policyholders and eight insurers. (
Here's a link to the study
). The study estimated that the average cost of formal long-term care over a lifetime is $172,000.

For many people $172,000 is more than their current savings and this number would be scary. On the other hand, those with significant 401k balances (due in part to a record stock market) this may look like a cost that would be easy to absorb.
The problem is that the average lifetime cost of LTC is not a smooth probability like flipping a coin.
Indeed, many times people have incur no LTC costs while others have very high LTC costs.
Instead of worrying about the average cost, people may want to plan for a situation that can have a devastating impact - an extended dementia or Alzheimer's claim. Consider this: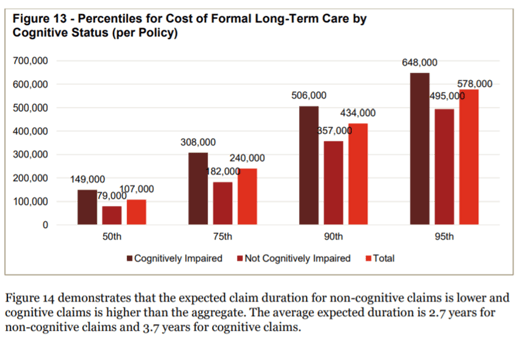 As you can see, 10% of the time an LTC event with cognitive issues can cost over $500,000. Remember, anyone can get Alzheimer's - regardless of health or family history. And this is before thinking about the cost of future inflation.
In addition to the actual formal cost of care, many hidden cost of LTC lurk:
Peace of Mind (a/k/a Fear) Cost If you are facing a possible long-term care event in the family, the uncertainty of the duration and cost can impact health through added stress. Also, investments may become more conservative, missing out on possible portfolio gains. LTC Insurance will give a level of comfort that that money will be available to pay for care.
Informal Caregiving Expenses and Family Dynamics. Often an adult child (often a daughter) will have to coordinate and help with care. In the absence of a 3rd party payor the adult child may insist on becoming a caregiver and possibly disrupt her or his career - and earnings. Family members and children who may have anticipated an inheritance may also be concerned about the cost of professional care. Regardless of the wealth of a family LTC Insurance can help preserve family peace.
Timing of LTC Event and Investment Liquidity. If someone was unfortunate enough to have an unexpected LTC event in 2009 after the financial crisis they may have had to reposition assets to prepare for the cost. That could have included selling at market lows or having to sell real estate at deflated prices. On the other hand, LTC Insurance policyholders didn't see an adjustment to their policy values - they kept increasing if an automatic inflation option was included. At a minimum, clients should complete an asset identification and form - (you can get a copy of one here).
Care Coordination. Don't confuse a checkbook with a plan. There is a lot of unexpected things that occur with a LTC plan that need to be accounted for. Many LTC policies include a built in care coordination benefit or will pay for outside services. Of course, these services can be accessed through private pay but LTC Insurance accelerates the process.
Owning LTC Insurance can be "asymmetrical" - meaning that the downsides of owning coverage are outweighed by the possible upside of coverage. What are those downsides? They include the annual premiums due along with possible in-force premium increases. The potential upside, however, can be very high -especially with plans that offer an unlimited benefit period.
Consider all the risks of self-insuring for care.